Found in Key Biscayne, the Crandon Park beach is one of the best, if not one of the best known, beaches in Miami, with South Beach certainly taking the spot of 'best known'.
The beach is divided into two different areas; the northern part, with more waves, is frequented by surfers while the south, with white sands and calm waters, is the part most popular with families and couples.
One of the advantages of this beach is that it has an area full of palm trees, below which you can spend the hottest days of summer, and tens of tables and grills for those who want to eat at the beach. And another point of convenience is that this beach has an enormous parking lot just in front.
Some Nearby Beaches
Crandon Park Beach can be found just around the corner from Bill Baggs, but one beach could not be more different from the other. While Bill Baggs is wild and exotic, Crandon Park is more luxurious, and has more services to offer.
To the North of Candon Park, you can find Virginia Beach, a very popular beach with surfers.
Around Crandon Park
Crandon Park, has a rich history - years ago it had an enormous coconut plantation, and was variously home to Native American tribes, soldiers and pirates. In 1947 a zoo was installed, with the intention of turning the area into an important tourist destination. In 1981, the Crandon Zoological park was transferred to South Miami to become the Miami Metrozoo.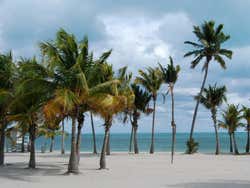 Schedule
From 8 am until sunset.
Price
US$ 5 per vehicle (US$ 7 on weekends).