The museum was created in 1963, when John and Johanna Bass gave their collection to the city of Miami Beach, which was cared for and opened to the public.
The Bass Museum of Art is a fine art museum which can be found in the old Miami Beach library, in the centre of the city's old town: with a Mayan-inspired construction. 
The Museum
Although not all simultaneously on display, the museum hosts more than five hundred European works from the 15th to the 20th century, including works from old masters and a large collection of religious objects. As well as the permanent collection, the museum has regular temporary exhibitions.
The collection has grown little by little over the years, and these days has more than 3,000 works of art. Although the majority are not from world famous names, there are works by artists such as Botticelli and Rubens.
Good, but miss-able
This is a small museum, with a minor permanent collection. Unless there is one of the temporary exhibitions which especially interests you, or you have lots of time in Miami, this is a sight which it's possible to miss.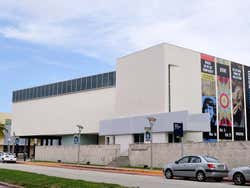 Schedule
Wednesday - Sunday: 10:00 am to 5:00 pm.
Closed: Monday and Tuesday.
Price
Adults: US$15
Over 65s and Students: US$8
Children 7 - 18: US$8
Children under 7: Free.